From Century Media Records:
SICK OF IT ALL are happy to announce the release of their upcoming album, entitled "Wake The Sleeping Dragon!", which is scheduled for a release November 2nd, 2018.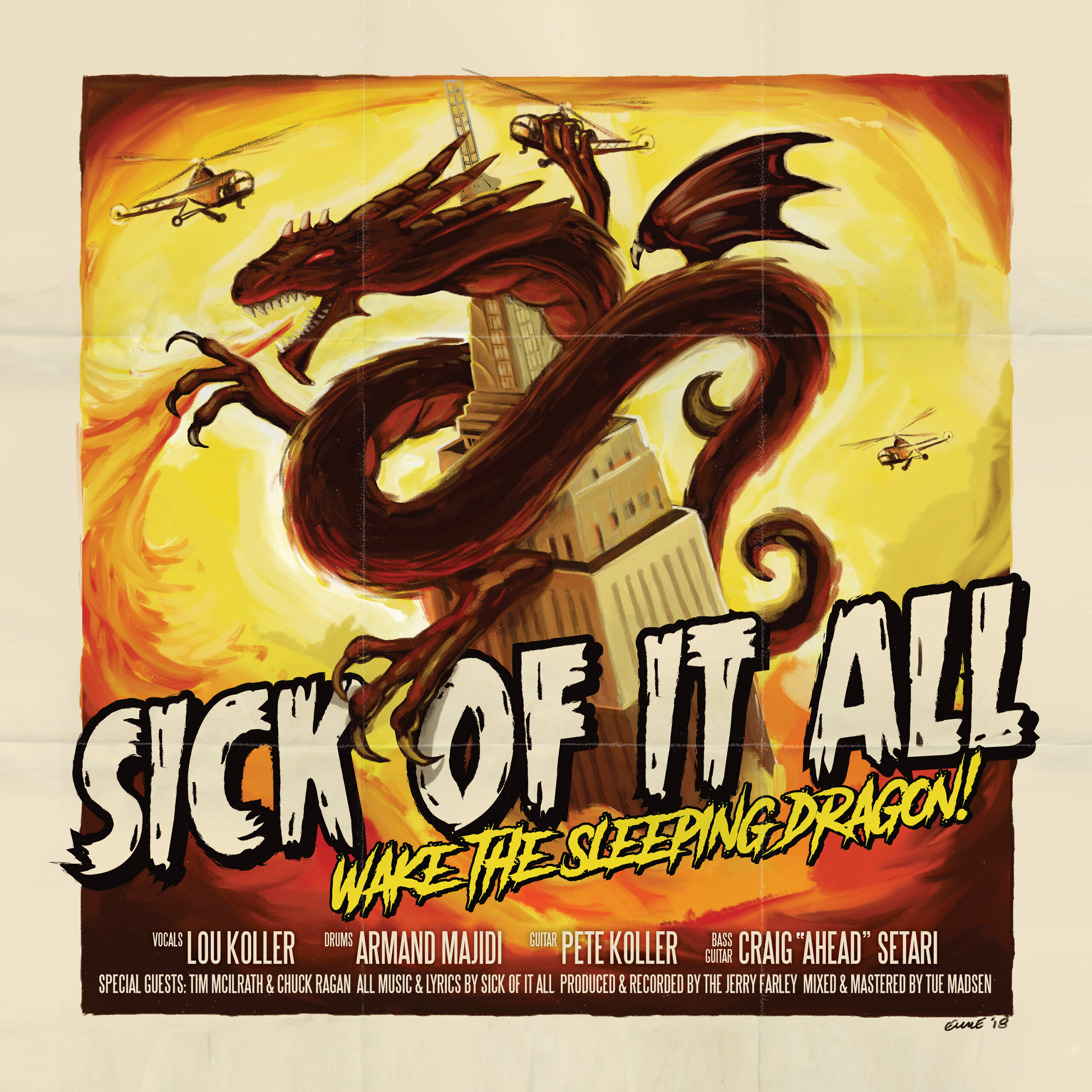 Working with friends is one of the key factors that are very important to SICK OF IT ALL, so asking Ernie Parada for the striking front cover was an obvious choice: "There is no reason to burn bridges in this business", says drummer drummer Armand Majidi. "Our history with Ernie Parada goes back to the late eighties, so working with him, there is a kinship that makes things easier to communicate." Singer Lou Koller and Parada came up with the idea of doing monster-movie styled art as the cover. "The dragon climbing the Empire State was a concept I always wanted to see brought to life, so the two ideas were destined to come together this way."
SICK OF IT ALL and Tue Madsen, who mixed and mastered "Wake The Sleeping Dragon!", have maintained a long-lasting relationship based on understanding, friendship and most importantly, good results – three factors any band would be very happy with.  The Jerry Farley also became a very important part of the creation of this album. After working with him at Nova Studios, Staten Island, New York, before they went for a closer approach on this album: "This is the first time we've ever had a producer involved from start to finish, including the song-writing process.  His objective viewpoints helped settle a lot of little issues that could have easily become stumbling blocks, and the songs themselves ended up benefitting from them."
Keep your eyes and ears open for a new song soon.
While the band is currently playing summer festivals such as Summer Breeze, Reload or Summer Blast they already have more touring lined up including shows in France, Spain, Portugal and Italy in November as well as co-headlining the Persistence Tour 2019.
Summer 2018
17.08.18 (DE) Dinkelsbühl – Summer Breeze
18.08.18 (DE) Trier – Summer Blast
19.08.18 (DE) Rostock – MAU Club
21.08.18 (PL) Poznan – Klub U Bazyla
22.08.18 (DE) Magdeburg – Factory
23.08.18 (DE) Lindau – Club Vaudeville
24.08.18 (DE) Wörrstadt – Neuborn Open Air
25.08.18 (DE) Sulingen – Reload Festival
26.08.18 (NL) Amsterdam – Melkweg
France 2018
10.11.18 (FR) Issy les Moulineaux – le Réacteur
11.11.18 (FR) Mulhouse – Noumatrouff
13.11.18 (FR) Montpellier – Secret Place
14.11.18 (FR) Biarritz – Atabal
15.11.18 (FR) Limoges – CCM John Lennon
16.11.18 (FR) Durtal – Durtal – l'Odyssée
17.11.18 (FR) St Brieuc – Streetpunk Ink Mas Party
18.11.18 (FR) Le Havre – Le Tetris
20.11.18 (ES) Victoria – Sala Jimmy Jazz
21.11.18 (ES) A Coruna – Playa Club
22.11.18 (ES) Sevilla – Sala Custom
23.11.18 (PT) Lisbon – Tattoo Convention
24.11.18 (ES) Madrid – Sala Copérnico / Sala Carcacol
25.11.18 (ES) Barcelona – Sala Razzmatazz
27.11.18 (IT) Seregno (MI) – Hot Factory
28.11.18 (IT) Rome – Traffic Live Club
29.11.18 (IT) Bologna – Freak Out Club
PERSISTENCE TOUR 2019
with IGNITE, Municipal Waste, Walls Of Jericho, Booze And Glory, Take Offense
17.01.19 (DE) Berlin – Astra
18.01.19 (DE) Hamburg – Grosse Freiheit 36
19.01.19 (DE) Dresden – Kraftwerk Mitte
20.01.19 (CZ) Brno – Sono Music Club
21.01.19 (DE) Munich – Backstage Werk
22.01.19 (DE) Lindau – Inselhalle
23.01.19 (CH) Lausanne – Les Docks
24.01.19 (DE) Wiesbaden – Schlachthof
25.01.19 (BE) Deinze – De Brielpoort
26.01.19 (DE) Oberhausen – Turbinenhalle
27.01.19 (UK) London – O2 Forum Kentish Town